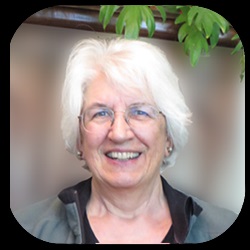 Ellen Henson is an Advanced Accredited Life Insights Teacher (A.A.L.I.T.). Ellen has been co-creating with Nature since she was young. As she engages in the myriad aspects of this connection, her work continues to offer ways for others to refresh, rejuvenate and re-energize. A continuous thread through her life has been energy. For 30 years, Ellen has offered hand analysis, reading soul and personality information. She is founder of Animal Beacons of Light. As a Reiki Master, Ellen teaches all levels of Reiki. She is an Essence Master and creator of over 900 New Perspectives Essences for personal transformation. In 2005, she founded and is Director of the 20 Dancing Dragons Mystery School of Self Mastery.
Ellen began her association with Life Insights Teachings in 1996. She has taught foundation level and graduate classes since 2000. Together with Tina Solinas, she created Life Insights manuals for 3 of the graduate level classes and the Teacher Training Program. She is a co-founder and current teacher of LEAP.
Ellen's classes and individual sessions, in-person and remotely, draw from all her various modalities of energy work as appropriate.