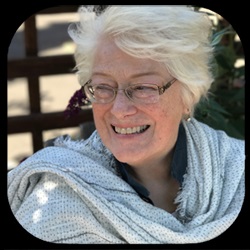 Susan Thompson is an Advanced Accredited Life Insights Teacher (A.A.L.I.T.). From an early age, Susan has been drawn to transcendent and spiritual teachings, and has studied with various spiritual teachers. She lovingly shares her knowledge of yoga, healing arts, meditation, Reiki, nature, music, and shamanism to bring people to a peaceful and positive place in their lives.
Susan founded an ashram at age 20, opened her own healing center offering alternative healing practices, and wrote two nonfiction books in the Silk Stalkings series. While she was working in the medical science world, Susan merged her career with metaphysical healing into a system of energetic and scientific support. Since 2010, she has served as a co-director of the 20 Dancing Dragons Mystery School of Self-Mastery.
The Life Insights Teachings found Susan in South Africa in 2005. With great enthusiasm and joy, she teaches 'the healing class', Son of Healing, and is a co-founder and current teacher of LEAP.